Understanding the Basics of Laser Hair Removal
Published on March 18, 2019 by Carlos Mata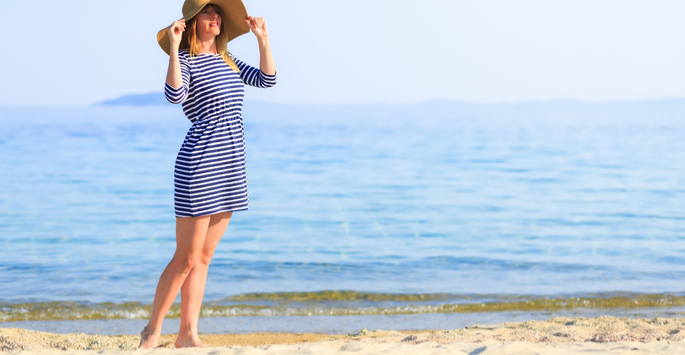 Laser hair removal is a convenient treatment technique that leads to the permanent reduction or removal of unwanted body or facial hair. It can leave your skin appearing silkier and smoother than any other form of hair removal. Large areas can be safely treated with no real downtime required. These are some of the reasons why laser hair removal has become one of the most commonly performed cosmetic treatments within the United States.
How It Works
Lasers allow us to precisely target individual hair follicles for destruction. The melanin, or portion of your hair that contains pigment, absorbs thermal energy from the laser. This results in the destruction of the hair follicle, and it can no longer produce hair in the treatment area. Patients will require multiple laser hair removal sessions for the permanent removal or reduction of unwanted hair.
Best Candidates
You may make a good candidate for a laser hair removal procedure if you are tired of dealing with unwanted facial or body hair that can restrict your clothing choices or cause you embarrassment. Ideal candidates have realistic expectations regarding the treatment and the results. The type of results that you receive from your procedure are affected by factors like your age, ethnicity, size of treatment area, hormone levels, medication, and the color, length, and coarseness of body hair.
Multiple Treatments for the Best Results
It will take some time for complete results to develop. Individual hairs grow in individual growth phases. When a hair is in its dormant phase, it falls out. Since the laser requires the presence of a growing hair for targeting, we will need to perform multiple treatments to catch each individual hair when it happens to be in a growth phase and available for treatment.
What to Expect
The process is pretty straightforward. We simply transmit thermal energy through the laser into the hair follicles, destroying them and preventing the growth of unwanted hair. Your laser treatment can be performed on an outpatient basis in the comfort of our office.
Contact Us Today
If you are tired of constantly needing to pluck, wax, or shave to remove unwanted hair, you may make a good candidate for laser hair removal at Natural Results Medical Spa in Scottsdale. Please feel free to contact us today to schedule your consultation and learn more information about the process.